WebOnTheFly > Benefits > More powerful than static design


More powerful than static design
WebOnTheFly focuses everyone on what they do best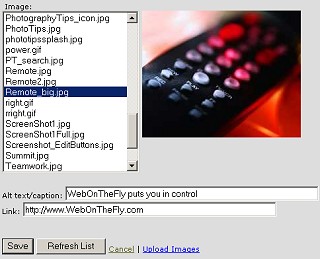 The key to content management is separating design from content. That way, your designer can concentrate on great design, and you can run your website.
Managers manage
When you log into your site as its "webmaster", you'll see small buttons near areas of content that you can edit, such as headlines, images or detail text. Click the button and edit the content -- it's really that simple.
The overall page layout is handled by your custom, professionally-designed templates, so you only concern yourself with the actual text and images on the page. When you need special text formatting, such as bolding, italicizing, bullets or tables -- you can use the built-in WYSIWYG ("What-You-See-Is-What-You-Get") editor, which provides a toolbar much like a word processor.
Links between pages are dynamically displayed based on the latest changes to the site. So, if a page is deleted or "un-published", all links to that page from elsewhere on the site are automatically removed.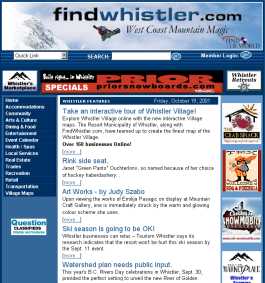 Designers design
Your designer establishes the look of your site using regular HTML - the language used to create regular, static websites. This gives the designer virtually complete creative control. WebOnTheFly "modules" that allow you to edit your site are placed exactly where they're needed in your templates using special tags that are simply an extension of HTML. This makes WebOnTheFly a familiar, easy-to-learn environment for designers who are working with it for the first time.
Modular architecture and multiple layers of customizability
LET'S TALK ABOUT YOUR PROJECT