WebOnTheFly > Case Study: GreenwoodNursery.com


Case Study: GreenwoodNursery.com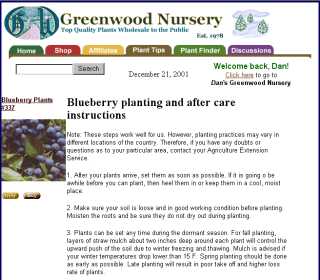 For eCommerce sites, nothing replaces quality products and service. Beyond that, though, can your website differentiate your company from others that also provide quality products and service?
Steve Jones thinks so, and he's proving it with GreenwoodNursery.com. Greenwood Nursery has been providing "top quality plants wholesale to the public" for over 20 years, and Jones saw the opportunity to broaden that business through the web in 1998. He started with a basic web presence, and has steadily been adding features along the way.
Information sells
Understanding the internet mantra of "give first, then take", Jones offers helpful articles on landscaping and land management. This makes the site more attractive to potential customers who aren't yet ready to buy, but are looking for answers to questions or problems. Of course, Jones offers not only the free answers they're looking for, but products to help them as well.

WebOnTheFly aids this process beautifully by allowing Jones to organize both his articles and his products by topic. The resulting cross-referencing enables him to sell products "in-context" with his articles.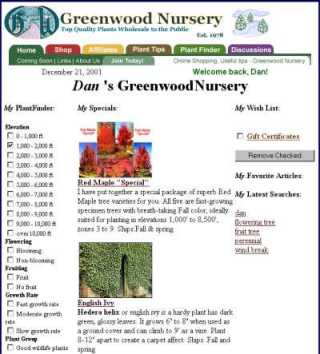 The privileges of membership (for buyer and seller)
One focus for GreenwoodNursery.com has been gathering a list of highly targeted potential customers to offer product specials by email. Jones understands that "spam" (unsolicited email) can do more harm to his business than good, so he began offering "membership" to his site visitors. If they provide their email address, GreenwoodNursery.com occasionally sends them new articles and special product offers, which have dramatically increased sales.

Jones recently expanded on this effort as well, with the launch of the "MyGreenwoodNursery" personal home page. Members are now directed automatically to their own home page, where they're given several additional benefits:
MyPlantFinder helps them find the products they need by filtering for the proper hardiness zone, elevation, growth rate and other characteristics
MySpecials remembers their filter settings and shows them the product specials that most closely match their preferences
MyWishList allows customers to flag products that meet their needs and easily find them when they return to the site to buy them
MyFavoriteArticles does the same with articles -- enabling members to easily access the articles that have been most helpful to them
MyLatestSearches remembers the keywords that a member enters into GreenwoodNursery's robust search engine, then places a link on their personal page -- one click and the search is re-created
Word-of-mouth on steroids
"Viral Marketing" is a popular online marketing buzzword that simply refers to the age-old concept of "word-of-mouth" advertising. The twist that the internet provides, however, is in the form of tools to make the process easier for customers.

Two examples of this on GreenwoodNursery.com are the "tell-a-friend" feature, which enables visitors to easily email an article or product info to a friend; and fully automated gift certificates, which can be printed out or instantly emailed.
Growing together
Steve Jones of GreenwoodNursery.com continues to pursue better ways to serve his customers and more methods to increase revenue. Earl Buchan of DigitalSunshine.com is helping guide the way with strategic direction, online marketing and design services. And we're right there with them, continually improving WebOnTheFly to make our clients' sites more robust.




LET'S TALK ABOUT YOUR PROJECT